Tuesday, June 28, 2005
Long time, no see.
That's what I said to my hairdresser this moring.
That's right people, for the first time in eight months, I got my hair cut.
I had to get a really early train to get it aswell, and I was dead by the time I sat in my seat. But I still managed to pull off a child ticket and get in really cheap.
I walked in kind of late, but the place was empty apart from a girl sipping coffee while her hair was in tinfoil (Don't ask me why though...). But I rang the bell and someone popped out from behind the counter and I gave my name and details. When Alison came up I told her what I wanted done with it, and then she set to work.
The funny thing is that through the whole time that she spent cutting my hair, there were two girls behind her, like on her beckon call. It was really funny. All she said was "Towel" and one disapeared for a second before returning with a towel for her.
I thought it was amusing.
And she cut my hair!
It isn't short by the way, just incase some of you think it's really short now. It's just shorter.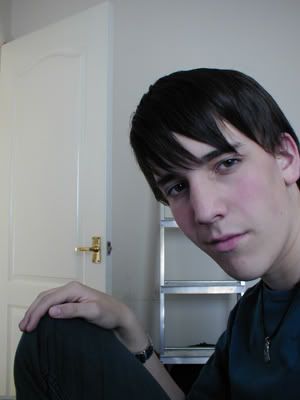 That's me here. If you know me, then you'll know the difference. Hopefully.
Saturday was fun. We went into Glasgow and just messed about. Most of the time was spent sitting on one of the grass bits in George Square and listening to Jazz music from the festival. It was dead relaxing and stuff. We even bought a ball and started playing some games with it. I think we annoyed a few people while doing that though...
I had to leave by the time Benn and the Helensborough crew arrived, but I was glad to leave. I always feel uncomfortable around them. Well, Benn and Pope are alright, it's Olly really. Ah well.
Sunday was a day of rest. So I didn't do much.
Monday I was made to do work. It wasn't all bad. I did my ironing while watching Dogma. I love that film so much. It's one of the funniest things I've ever seen.
But I had a whole lot of ironing to do, so it was annoying.
In the evening I was going to go out with Jason, LauraMcG and Rebecca. I was really late 'cause of my dinner and I had to run to meet them. But halfway there I got this awful cramp in my stomach and I was in pain all the way until I met them. And then for the rest of the night I was worried incase I was going to be sick.
I felt really uneasy and every time we walked somewhere I thought I was going to upchuck...
And that leads us to tonight.
It's Tuesday, so mum's in Manchester for the night. Which means Chris has friends round. Which means they've stolen all the bloody good food in the house. THEY STOLE MY CHOCOLATE TRIFLE PUDDING THING!
I was saving that all day and THEY eat it.
It sucks muchly.
But he's given me a packet of Maltesers to make up for it, so it isn't all too bad I guess.
I'd better come off now. This room is tiny and the computer is heating it up to sauna temperature, even with the window open.
Have a good one.
I wonder how long I can stay up for tonight...